Featured Authors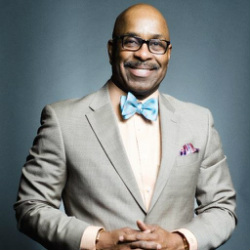 BOOK OF THE MONTH

All Nations TV recognizes an author each month and the most current book that he/she has written.
This month, the decision was an easy choice. The book for the month of March 2017 is "Hanging On By A Thread" by Bishop Dr. Walter Thomas.
Hanging On By A Thread
will help you find your way back, back to your drive, to your purpose, and most importantly, back to you. Though all people struggle with feelings of being lost and overwhelmed, those of us in positions of authority often struggle more than others. We often feel the need to remain strong and never let a crack show in our façade. We aren't allowed to show doubt, and we aren't allowed to be imperfect. Whenever we encounter a new challenge on top of those we deal with on a daily basis, we tend to handle it-as with everything else-on our own, never showing the stress that it creates or the angst and anger that it can sometimes cause. To do this, we often have to ignore our own needs so we can focus on the needs of those we are responsible for-a ministry, employees, or the little ones at home-leaving us to forge on alone, pushing through all of our problems and locking inside all the feelings that we should be disclosing.
You can get your copy of "Hanging On By A Thread" through the All Nations TV bookstore. Click below to go to the Amazon bookstore:
Amazon bookstore
---
BOOK OF THE MONTH
"Next" "What to Do When You Know There is Something More"
All Nations TV recognizes an author each month and the most current book that he/she has written. Sometimes there is a long and lengthy discussion about this selection and this month was even more difficult. The decision was to recognize two books because both authors did an outstanding job.
This article is about the book written by Adonis Lenzy. The title of the book is "Next".
Sometimes in life we find ourselves still dreaming the dream but not living the dream. We reach a place called "Stuck," which has the potential to lead to discouragement and unhappiness. We do the same old activities at work, school, or home while constantly imagining the life we really want to lead. Next will show you how to:
* Manage the emotions of your now situation
* Get unstuck and start moving again
* Face your fears head on and conquer rejection
* Increase your capacity for more and kiss mediocrity goodbye
* Make your next days your best days
It is never too late to take strategic steps toward the future you want to have. You do not have to be stuck. Next will show you what to do when you know there's something more.
Adonis Lenzy is a Pastor, Speaker, Communicator that has a passion to inspire others to live the life they have imagined. With over 17 years of ministry experience he truly enjoys encouraging others. He's from San Antonio TX and is a die hard Dallas Cowboys fan. He also believes that nothing is more important than family. He loves spending time with his wife Heather and two children, Grayson & Kherington. He also enjoys playing golf, eating BBQ, and drinking southern style sweet tea...a lot.
You can get your copy of "Next " through the All Nations TV bookstore. Click below to go to the Amazon bookstore:
Amazon bookstore
---